Foot and Ankle Fractures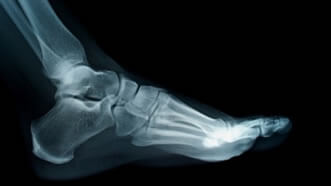 Highly active people (athletes in particular), or those with a very sedentary lifestyle, are very prone to stress fractures. When muscles weaken—either from too much or too little use—the muscles cease providing cushion for the foot and ankle as they impact the ground. As there is very little to protect the bones in your feet, each step you take causes the bones to absorb the full impact, and this causes cracks to form, or stress fractures, to form in the pressurized bones.
Basketball, tennis, and gymnastics are three of the top activities in which stress fractures appear consistently and frequently. On the other side however, those people who have previously lived an inactive lifestyle may incur a fracture when transitioning abruptly to an active lifestyle—such as those starting a high-impact, intensive workout. The muscles, unused to such vigorous work, are not used to handling and cushioning against a vigorous activity. Also, those patients who suffer from osteoporosis, or any condition in which their bones are weakened, frequently suffer stress fractures simply from normal wear and tear.
At the localized site of the fracture (typically where the symptoms originate) the pain can be immense. Sharp or dull pain is paired with swelling and possibly tenderness—engaging in any kind of further activity, especially high-impact, is highly discouraged. Though stress fractures heal in time, they are not as serious as say, when you receive one and continue engaging in high-impact activity; the condition may turn into a full fracture. A full fracture is very serious and may prevent usage of the foot wholesale.
From this point, treatment can vary patient to patient with the severity of the fracture. Rest is absolutely required for the foot. Fractures vary in healing time, some can be healed with short bursts of rest, and others require prolonged periods of resting paired with crutches. In cases in which the fracture is very serious, surgery may be authorized to install pins supporting the fracture and aiding in healing.
On diagnosis of a stress fracture—immediately cease the activity that caused the fracture and rest! Prevention is always your first step, however, if relief of the symptoms does not occur naturally and within a reasonable time frame, an orthopedic specialist is highly recommended.